True Blue Pipe Joint Lubricant is NONTOXIC, NONCORROSIVE and NONFLAMMABLE.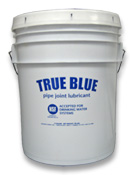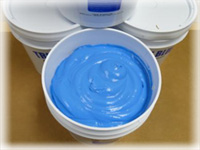 TRUE BLUE PIPE GASKET LUBRICANT is designed for lubricating slip-on or "O" Ring type joints without harming rubber or plastic gaskets.
Benefits…
Non-Staining
Non-Irritating
Non-Reactive to Chlorine
Emulsified polymer-based Lubricant
Odorless – Berry Fragrance
Will NOT support microbiological growth
Environmentally Friendly
Non-Hardening; will NOT dehydrate
Can be applied under water
Will NOT coagulate and will NOT promote turbidity
Tasteless
Temperature use range: -12° F to 170° F
Flushes COMPLETELY out
Viscosity maintains the same – even under extreme Warehouse Temperatures.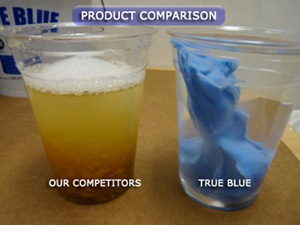 Directions…
TRUE BLUE PIPE GASKET LUBRICANT IS READY TO USE.
Do not dilute or alter its consistency in any way.
Do not mix with any other lubricants or soaps.
Clean both inside and outside of surfaces to be lubricated.
Lubricate gaskets thoroughly.
Apply True Blue Pipe Gasket Lubricant inside surface of bell and outside surface of spigot.
Align pipe to be coupled to receiving bell.
Connect together using an approved coupling method.
Industrial Pipe Joint Lubricant