From low-pressure to high-pressure piping applications, ManuSpec offers pipe thread sealant solutions for wholesale customers worldwide.
Our True Xtreme Blue Pipe Thread Sealant is a Non-Toxic, Non-Hardening, Non-Seizing pipe dope and offers Easy Clean-Up and is made for PVC, ABS, CPVC, Nylon Plastics and metal pipe applications.
True Xtreme Blue Pipe Thread Sealant is Specially formulated for High Vibration line and Industrial Environments. Preferred by Professionals for Sealing and Lubricating all Metal and Plastic Threaded Pipe Connections.
TRUE XTREME BLUE is a blue, grit free, industrial grade pipe thread sealant compound made of the highest quality non-toxic lubricants that permits low torque make-up and easy dis-assembly without harming threads or seals. Designed to seal threads, it helps ensure leak-proof joint in both metal and plastic pipe. True Xtreme Blue is a slow drying, soft setting, non-hardening compound for on-site or assembly line use.
TRUE XTREME BLUE may be used for threaded connections on…
All metals,
ABS,
PVC,
CPVC,
NYLON plastics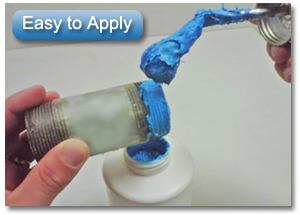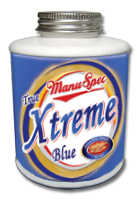 Why use ManuSpec True Xtreme Blue?
There are three basic types of pipe sealants used in the industry today: anaerobic resin compounds, Teflon tape, and pipe thread sealants (commonly called pipe dope). The most common being Teflon tape and pipe dope.
Disadvantages of Teflon tape: Does not adhere to the threads and does not provide a definite secure seal. Because Teflon tape is thin and fragile, it's prone to tear whenever the pipe is being assembled and tightened. Torn Teflon tape can work it's way into fluid systems, clogging valves, screens, filters and more, and it may may become dislodged during pipe adjustments, allowing leaks to form.
Disadvantages of Anaerobic Resin Compounds: Because of the basic chemical composition, compatibility of anaerobic resin compounds with PVC and CPVC pipe should be checked before use. Although anaerobic resin compounds cure sufficiently for immediate use, a 24-hr curing period should be observed before high-pressure systems should be activated.
Advantages of True Xtreme Blue Pipe Thread Sealant: True Xtreme Blue is an inexpensive and easy to use pipe dope. It's chemical composition is compatible with all pipe materials, including PVC and CPVC and  produces a strong seal to pipe threads.
True Extreme Blue Pipe Thread Sealant
Contact Us for more details and pricing.