High Temperature Pipe Thread Sealant with PTFE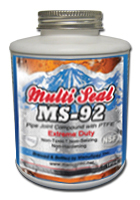 ManuSpec's MS92 Pipe Thread Sealant is designed for thread and pipe sealing for use on sealing tapered and parallel threaded metals including iron, steel, copper, brass, aluminum, and on plastics including PVC, CPVC, ABS and fiberglass. MS92 offers superb sealing abilities at pressure ranges for Gas up to 3,000psi and  Liquid up to 10,000psi.
MS92 seals instantly upon application and will not separate, settle, shred, evaporate or shrink once applied. MS92 Pipe Thread Sealant with PTFE does not harden, or become brittle. Joints can be disassembled without damage to the pipe, fittings, or threads with even years after the joint was made.
MS92 Pipe Thread Sealant resists pressure, vibration and temperature cycling as well as hydraulic fluids, oil, fuel and lubricants. MS92 will not stain clothing and wipes clean from tools with a dry rag.
---
MS92 Pipe Thread Sealant with PTFE seals instantly on application and is odorless.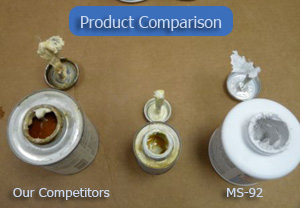 MS92 is a non-curing, pipe thread sealant for applications where a 100% seal is essential in minutes. MS92 is an excellent sealant for line-pipe carrying liquids or gasses. It can also withstand continuous temperatures up to 455f (235c). MS92 Pipe Thread Sealant with PTFE is a safe non-hazardous and non-flammable compound sealant. It contains no lead, heavy metals or hazardous volatile solvents.
Approvals…
ANSI/NSF: Std. 14, Std. 61 (March2005), IAPMO's UPC and FGG/BM
Specifications…
Appearance: White/Paste
Packaged Container: ¼, ½, Pint and Quart Brush Top
Odor: none
Pressure rating: Gas: 3,000psi   Liquid: 10,000psi
Temperature range (set): -50°F to 400°F
Usable temperature range: 0°F to 150°F
Flash point (COC): 200°F
Pressurization Time: immediate to 100 psi (max. psi – 24 hr.)
Shelf Life: 16 months
MS92 Pipe Thread Sealant with PTFE
Contact Us for more details and wholesale pricing on our MS92 Pipe Thread Sealant with PTFE