NON-PETROLEUM * APPLIES TO WET OR DRY SURFACES * Water Dispersible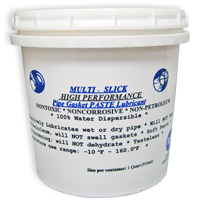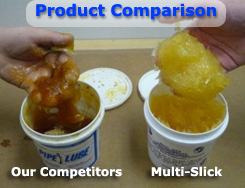 MULTI-SLICK PIPE GASKET LUBE is designed for lubricating slip-on or "O" Ring type joints without harming rubber or plastic gaskets.
 Benefits…
Suitable for all types of pipelines, including potable water pipelines.
Meets ANSI/NSF Standard #61 (March2005), Drinking Water System Components
Will NOT deteriorate natural or synthetic rubber or plastic gaskets
Will NOT support bacteria * Excellent working range -40° F to 140° F
Will NOT impart taste, color or odor to water in pipe lines flushed in accordance with recommended AWWA procedures
Viscosity maintains the same; even under extreme Warehouse Temperatures.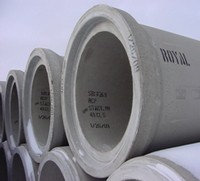 Directions…
MULTI-SLICK PIPE GASKET LUBE IS READY TO USE.
Do not dilute or alter its consistency in any way. Do not mix with any other lubricants or soaps.
Clean both inside and outside of surfaces to be lubricated.
Lubricate gaskets thoroughly.
Apply MULTI-SLICK Pipe Gasket Lube inside surface of bell and outside surface of spigot.
Align pipe to be coupled to receiving bell.
Connect together using an approved coupling method.
The Solution:
MULTI–SLICK™ Pipe Joint Lubricant for concrete and PVC eliminates the problems with existing pipe joint lubricants. It is an odor-free, easy-to-apply, soft paste material. MULTI–SLICK™ Pipe Joint Lubricant sticks to both wet and dry surfaces on concrete and plastic pipes. It doesn't wash off, even with flowing water.