MS-67 Pipe Thread Sealant is a semi-curing pipe thread sealant for applications where a 100% seal is essential in minutes. Works on inactive surfaces such as stainless steel. An excellent pipe thread sealant for line-pipe carrying liquids or gasses. Usable on coarse threaded PVC, iron, steel, copper or fiberglass pipe.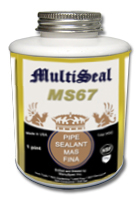 MS-67 Pipe Thread Sealant is an excellent sealant for line-pipe carrying liquids or gasses. Withstands continuous temperatures up to 455f (235c). MS67 is non-hazardous and non-flammable. It contains no lead, heavy metals or volatile solvents.
Why use ManuSpec MS-67 Pipe Thread Sealant?
There are three basic types of pipe sealants used in the industry today: anaerobic resin compounds, Teflon tape, and pipe thread sealants (commonly called pipe dope). The most common being Teflon tape and pipe dope.
Disadvantages of Teflon tape: Does not adhere to the threads and does not provide a definite secure seal. Because Teflon tape is thin and fragile, it's prone to tear whenever the pipe is being assembled and tightened. Torn Teflon tape can work it's way into fluid systems, clogging valves, screens, filters and more, and it may may become dislodged during pipe adjustments, allowing leaks to form.
Disadvantages of Anaerobic Resin Compounds: Because of the basic chemical composition, compatibility of anaerobic resin compounds with PVC and CPVC pipe should be checked before use. Although anaerobic resin compounds cure sufficiently for immediate use, a 24-hr curing period should be observed before high-pressure systems should be activated.
Advantages of MS-67 Pipe Thread Sealant: MS-67 is an inexpensive and easy to use pipe dope. It's chemical composition is compatible with all pipe materials, including PVC and CPVC and  produces a strong seal to pipe threads.
---
In a visual comparison to our competition, MS-67 wins hands down.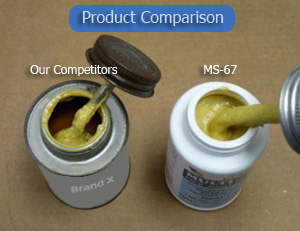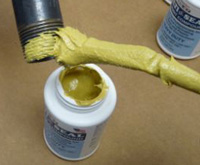 Approvals…
ANSI/NSF: Std. 14, Std. 61 (March2005), and IAPMO's UPC
Specifications…
Appearance: Brown/Paste
Packaged Container: ¼, ½, Pint and Quart Brush Top
Odor: None
Pressure Rating: Gas: 3,000 psi Liquid: 6,000psi
Temperature range (set): -50°F to 400°F
Usable temperature range: 0°F to 150°F
Flash point (COC): 200°F
Pressurization Time: immediate to 100 psi (max. psi – 24 hr.)
Shelf Life: 16 months
MS-67 Pipe Thread Sealant
Contact Us for more details and pricing on our MS-67 Pipe Thread Sealant