MS-7803 Paste Wax High-Temp Mold Release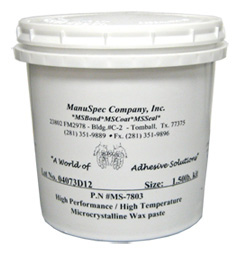 Description:
MS-7803 is a high performance production paste mold release blended with synthetic hydrocarbons and microcrystalline waxes. For use in ALL molding applications with excellent breakdown for fast, even coverage. It is particularly recommended for use on molds where standard silicone waxes hinder post-finishing operations or a primer coat to create a smooth mold surface. It may also be employed as an inexpensive edge wax on larger molds.
Direction for Use:
On new or used molds; using a clean dry rag apply a thin even coat of
MS-7803. Cover 3 to 4 square foot sections at a time, making sure to wipe excess off with a separate clean dry rag. Buff immediately, using either hand or power equipment equipped with terry cloth or lamb's wool pad. Power equipment should be kept constantly moving, as not to allow a build up of friction that will burn through the wax coating. Repeat process 3 to 4 times alternating the direction of your buffing motions to insure complete coverage. Apply one coat following each cycle thereafter, until mold is broken in. Seasoned molds may only require one coat of MS-7803, used in the same process as above. Re-wax as necessary.
Porous molds must first be sealed, using lacquer or similar coating. A good surface on plaster may be obtained with automobile type primer-sealers and lacquers.
Removing Part:
Generally, parts may be lifted out of mold after edges have been loosened, depending on size and shape. Larger or curved parts may require being tapped on by a rubber mallet to loosen mold. Rigid parts that can't be flexed may require a very strong blast of air or a few squirts of CO2.