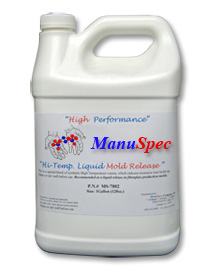 MS-7802 Mold Release – High-Temp Liquid Mold Release
MS-7802 is a blend of synthetic High Temperature waxes in petroleum distillates which provides a uniform non-setting mix. These hydrocarbons are fully synthetic and not subject to the quality fluctuations so often found in natural waxes.

MS-7803 Mold Release – High-Temp Paste Wax Mold Release
MS-7803 is a high performance production paste release blended with synthetic hydrocarbons and microcrystalline waxes. For use in ALL molding applications with excellent breakdown for fast, even coverage.